| | |
| --- | --- |
| Alloy Artifacts | Exploring Ingenuity in Iron ... |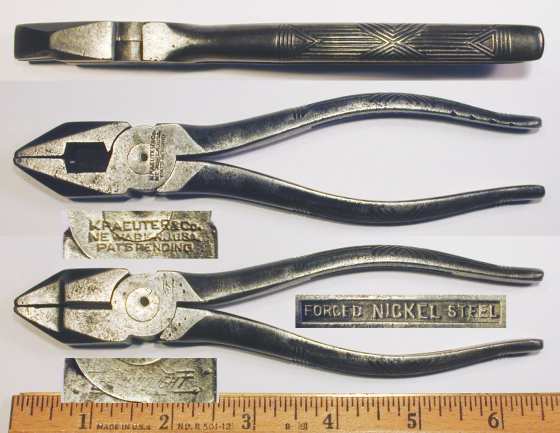 Kraeuter Early [2801-6] "Dreadnought" 6 Inch Lineman's Pliers, with Insets for Reverse, Side View, and Marking Detail, ca. 1914.
Welcome to Alloy Artifacts!
This site is your online resource for 20th century hand tools and the companies that made them. You'll find information on thousands of different makes and types of tools, along with high-quality photographs to show details for each tool, and with background history on the tool companies that helped shape the industry. The website also provides tables of patents and trademarks, logo images to help identify unfamiliar tools, and finally a Site Index to help find everything.
The web pages here are updated frequently, and to help you keep up with the changes, we've added a table of Recent Additions. This table is synchronized with our web page updates, so you can check here for the latest additions.
Ten Years and 5000+ Tools Later ...
Alloy Artifacts is 10! September 2015 marks the tenth anniversary of the founding of the Alloy Artifacts website. From a modest beginning with three articles and ten or twenty photographs, the site has grown to offer more than 5,000 photographs and historical information for dozens of tool companies. Long-time readers may remember the "dark ages" before this site came online, when an internet search for a tool or tool company likely found nothing at all, or at best a mix of speculation and misinformation. Alloy Artifacts provides solid information in the form of photographs, references to printed material, public documents such as patents and trademarks, and (when possible) links to other online resources.
Accessing the Web Pages
Alloy Artifacts has moved again! We're now back on a commercial hosting site, since Comcast decided to discontinue its personal web pages service.

The Alloy Artifacts pages are accessible at the http://alloy-artifacts.org URL, with an alternate address at http://alloy-artifacts.com URL. Both of these URL addresses will return the same contents, but if one isn't working, it may help to try the other.

What's New (Last Updated October 6, 2015)

Site Navigation

An Alloy Artifacts Sampler

Alloy Artifacts Links

Selected Articles

Tool Industry Features

The Retail Connection

Briefly Noted

The table below shows a small sample of the thousands of photographs available here. (Click on the photograph to find more information about the tool.)